This remarkable high-performance material offers many advantages over traditional coating methods.
Longevity
Rilsan® PA11 nylon coatings outlast both galvanising and stainless steel in many harsh environments which is why our stands have been selected by the National Trust for installation along the UK South West Coast Footpath.
These cycle stands in use at the National Trust Studland beach are installed a short distance from the sea and have been in service since 2009. Extensively used by cyclists these stands are not showing any signs of damage or corrosion.
Less demanding urban installations also benefit from this long lasting, impact and abrasion resistant coating which can be easily cleaned and is solvent resistant.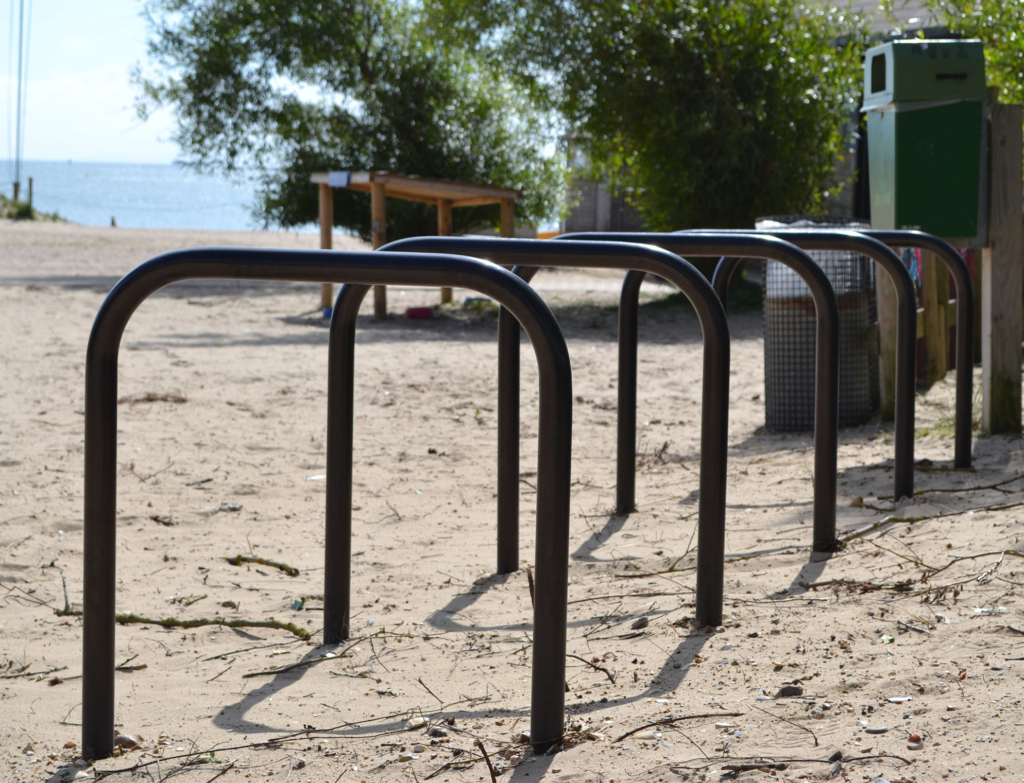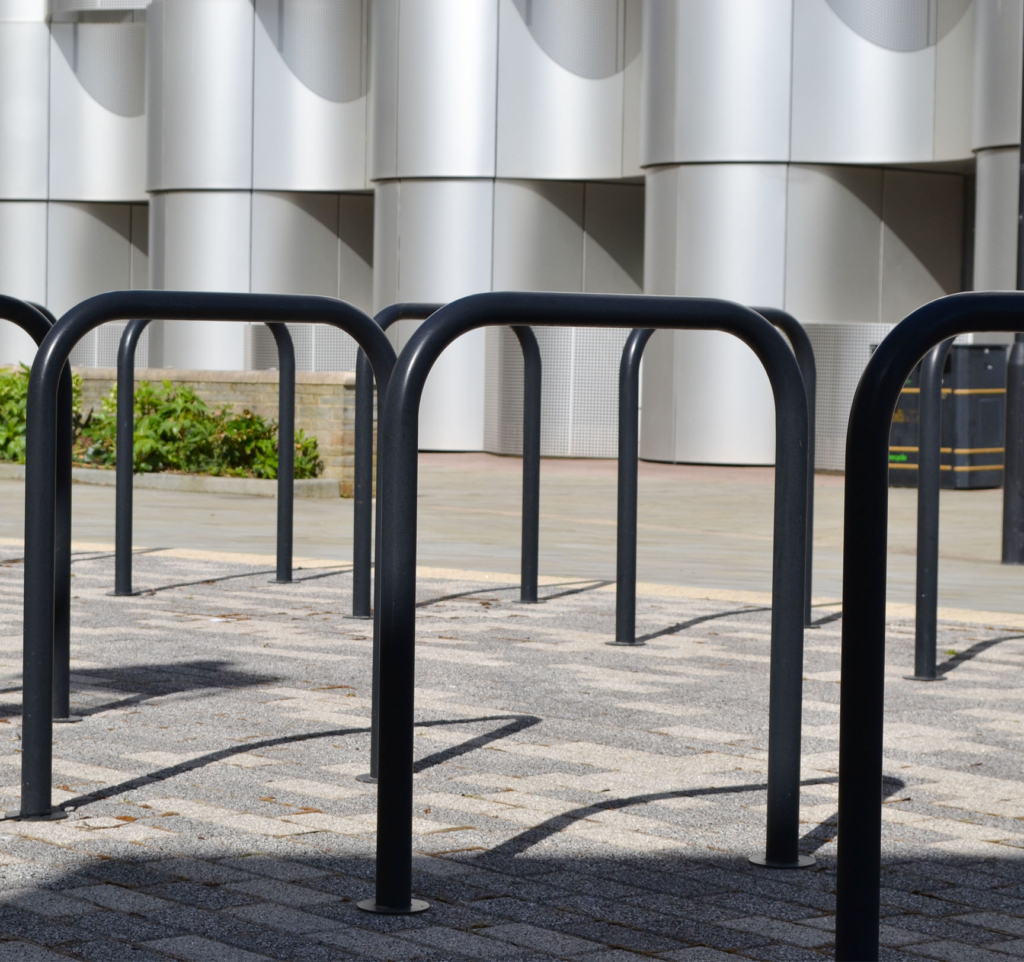 Sustainability
Rilsan® nylon PA11 is made from castor oil which is plant based and is fully sustainable.
Our Rilsan® nylon hot dip coating operation is integral to our modern Bristol factory. All operations from cycle stand manufacture, steel preparation by shot blasting, Rilsan® coating and final packing are carried out in house. After bulk delivery of the steel tube no further road transport is used in production which helps to reduce to a minimum the carbon footprint of the final cycle stands.
Compared to galvanising, Rilsan® coating eliminates the need for road transport delivering to the galvanising plant and greatly reduces the processing energy requirements. Unlike galvanising the Rilsan® coating process does not require the use of any toxic chemicals and does not produce any harmful emissions.
Rilsan® coated cycle stands can be simply recycled through normal metal recycling services and require no special treatment.
We believe our Rilsan® hot dip coated cycle stands are the most sustainably produced cycle stands commercially available.
For more information on this remarkable material please follow the link
Cyclist friendly
Rilsan® coatings are fully "DDA" Disability Discrimination Act compliant by virtue that they are "warm to the touch". Rilsan® coatings will not cause frost burn to skin in cold weather.
The slightly compliant nature of Rilsan® coatings is especially suited to the protection of cycles, it will not scratch cycle frames and is non damaging to paintwork and carbon fibre frames.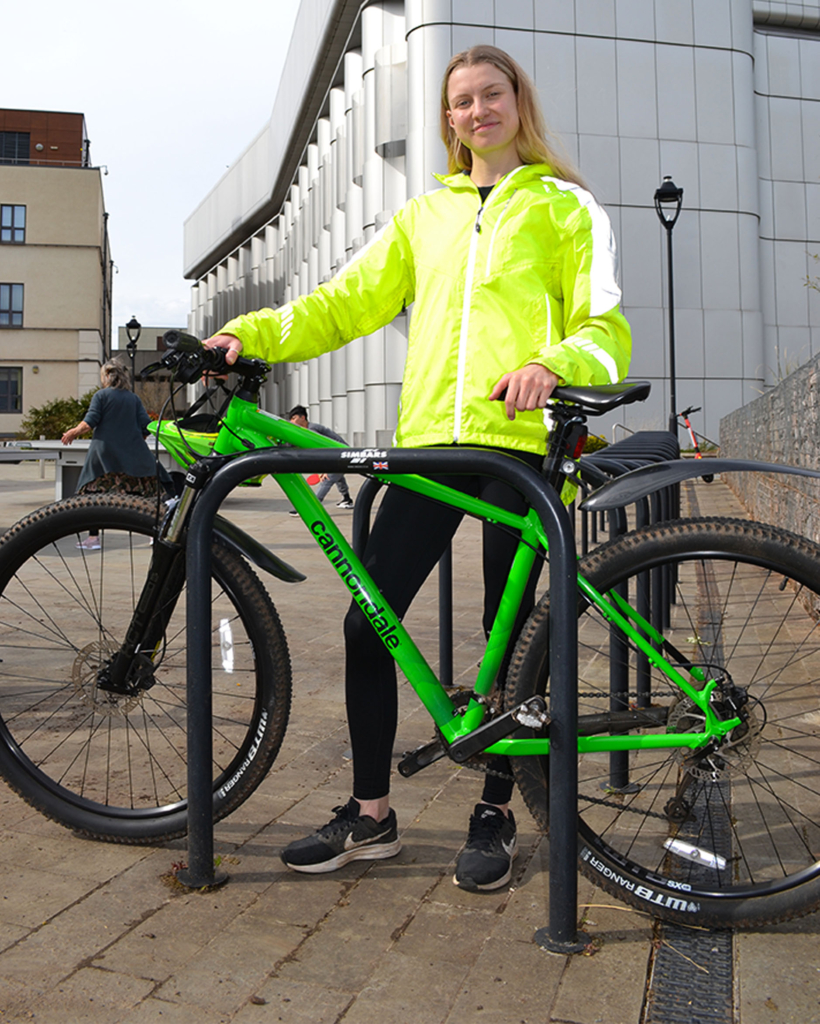 Rilsanisation®: the operation
To begin the process the cycle stands are prepared for coating. We operate a modern energy efficient wheelabrator shot blast machine where steel shot is thrown from two high speed impellors. This creates the correct surface blast profile to international SA3 standard which allows the Rilsan® nylon to mechanically bond to the clean steel surface during processing. The steel shot is recycled for re use in this fully enclosed automatic process.
The fluidised bed hot dip coating technique gives a Rilsan® nylon film thickness above 300 microns which is 4 to 5 times thicker than with the more common electrostatic spray powder coating.
Rilsan® nylon the environmentally sound surface coating for now and the future.